Honourable Prime Minister of India had launched the Handloom Mark Scheme on 28.06.2006. The basic objective of the Scheme is to brand our handloom products and secure a premium position for them in Domestic as well as International market. The Scheme is promoted by the Development Commissioner (Handlooms), the Government of India, and the Textiles Committee is nominated as the Implementation Agency.
The 'Handloom Mark' is a symbol of the rich legacy and tradition of Indian Handloom textiles. The Mark is aimed to promote the brand of handlooms and develop a niche market for the handloom textiles with a distinct identity. The Mark is also a symbol of social cause to promote the livelihood, welfare, and growth of more than 6.5 million weavers. This will enable the age-old traditional handloom industry to cherish their skills/craftsmanship and sustain in the competitive market.
Handloom Mark is the Government of India's initiative to provide a collective identity to the handloom products in India and can be used not only for popularizing the hand woven products but can also serve as a guarantee for the buyer that the product being purchased is genuinely hand woven from India. The Handloom Mark would therefore be a hallmark of passionate creative work that defines the product with clarity, distinguishes it from the competition, and connecting it with customers. To support the above features, the 'Handloom Mark' is specially developed with the logo and unique coding.
Registration for Handloom Mark Scheme.
Anyone involved in the production and marketing of Handloom products can resister for Handloom Mark Scheme with Textiles Committee. In order to prevent the misuse of the scheme, the applicants will be registered after onsite verification. Labels will be supplied on a quarterly basis on the basis of estimated annual production and sale except in the case of exporters. More than 22000 users under different categories are registered under the Handloom Mark Scheme throughout the country and more than 13 crore products are tagged with Handloom Mark Labels. In total, more than 9 lakh Handlooms are covered in the registration.
As per the recommendation of the MoT, the following eligible weavers and manufacturers can register for the Handloom Mark
Sl.No
Type of users 
User Category
1
Individual Weavers (IW)
Weaver
2
Master Weavers (MW)
3
Primary Handloom Weavers Co-operative Societies (COOP)
Society
4
Apex Handloom weavers' Co-operative societies or Handloom Corporation
5
Other Agencies – Handloom Producers (Self Help Group, Consortium, Producer Companies, Joint Liability Group, Handloom Weavers Group, Federations)
 Others
About Features of the Mobile app and Back-end portal
Hon'ble Minister of Textiles Govt of India launched the mobile apps and the portal on the occasion of 7th national handloom day on 7 august 2020.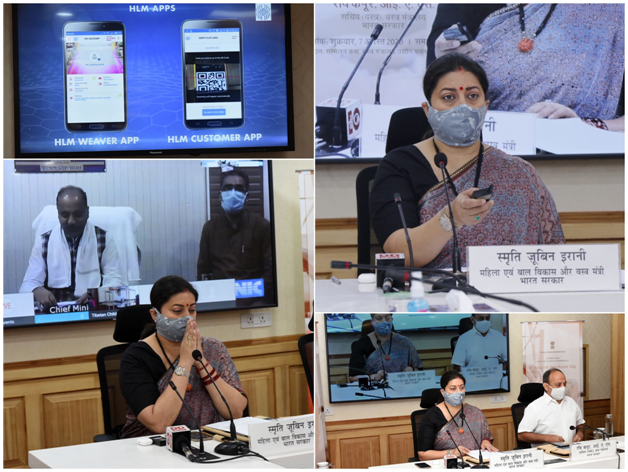 Circulars